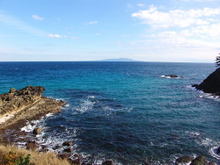 Today it was really cold with Northern wind.
When I came back from Shimoda I took this picture at a small parking lot "Miharashi Hiroba".
This morning it was cloudy here but the sky was blue and I could see Izu Oshima clearly this afternoon.
And I moved to take another picture…..