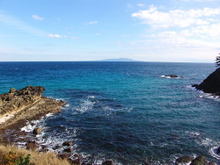 Today it was really cold with Northern wind.
When I came back from Shimoda I took this picture at a small parking lot "Miharashi Hiroba".
This morning it was cloudy here but the sky was blue and I could see Izu Oshima clearly this afternoon.
And I moved to take another picture…..

I could see Amagi mountains and Inatori cape from this place.
By the way the color of sea is really winter's one.
We can see various color of the sea all the year in Shirahama.