Today it was a little warm here in Shirahama.
When I was watching the weather forcast on TV they said that it was about 26 degrees in Okinawa.
Wao! It is possible to swim there!!
When I was walking around our pension with my son I found that Sakura tree had some buds.
I was thinking It is a little early to bloom but I found the another tree which had …….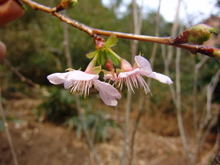 Amazing!!
Last year I posted the article about Sakura blossom on January 24th in this web blog, so it is very early, I guess.
We have just finished the winter holidays but we will have Sakura festival soon.
Time flies like an arrow.