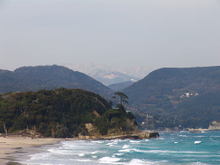 If you stand on Shirahama beach on the left side toward the ocean you can see Amagi Mountains.
It was a first time that Amagi mountain had snow this
winter.
Last night I waked up many times because I turned off the air conditioner and it was very cold in my room.
The color of the sea is really winter's one….