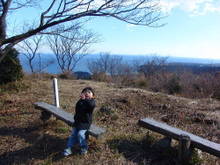 Yesterday my friend asked me,
"How is the blooming of Sakura on Mt. Takane? Because I have my own Sakura there."
As I was not able to answer him I decided to go this mountain to check Sakura blossoms with my son today. (Actually there are our three sakura trees there too!)
When we got off our car we started to walk.
This is a small place to see Izu seven island on the way to the top of mountain…..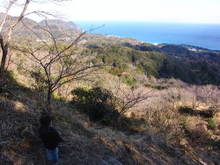 At the middle of this moutain we were able to find Sakuraya's sakura. (My son is standing on the left side in this photo. Our sakura is over my son.)
I checked all of sakura trees but most of them have not had flowers yet.
By the way would you like to go there by walking?
It takes only 1 hour from Pension Sakuraya to the top to get a beaufitul scenery of Pacific ocean, Izu seven island, Amagi mountains and Shirahama beach.
If you would like to do it you had better check the map in the following website.