Today it was really beautiful here in Shimoda. I can't believe that there were black clounds in the sky yesterday.
This afternoon I went to Mt. Takane, the highest mountain in Shimoda, with my son, Yuuki.
I took this photo on the top of this mountain. I could see Izu Seven Islands clearly over Shirahama beach.
I am showing the photo which I took on the other side …….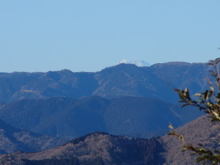 Look at this!
Do you see a small white mountain over there?
It is Mt. Fuji !
Yes, we can see Mt. Fuji from only this spot in Shimoda.
It takes about 1 hour by walking from Sakuraya.