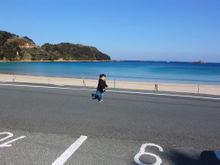 As my son, Yuuki wanted to go somewhere we went to the beach today.
Have you ever been to Sotoura Beach in Shimoda?
This beach is located between Shirahama and Shimoda town and it takes only 3 or 4 minutes by car from Sakuraya.
There is a parking lot in front of the beach and it is free except busy season, so it is very convnient to park and play on the beach.
In addition this beach is a big creek so they don't have big wave here.
It is very helpful for the children who don't like big wave.
We came back to Shirahama beach after that…..