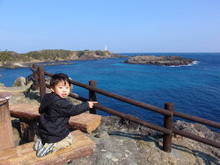 Last week I went to Suzaki Walking Trail for the first time with my son, Yuuki.
I moved to Shimoda 15 years ago but I have never been there.
There is a bus line from Shimoda station but we went there by car this time.
The walking trail is 2,8km. I think this is not long but we can walk on the seaside looking Izu seven islands and ships going across the sea…..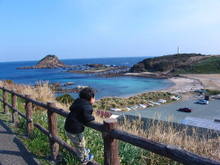 We started to walk at 12:15 pm and arrived at Cape Tsumekizaki at 14:25 pm.
It took long time because we sometimes had a break and walked taking photos.
I think actually it enough to walk for 50 minutes or 1 hour.
My son, Yuuki was very happy and excited, and could walk almost this trail.
I posted the information of this walking trail with many photos and maps in our web site.