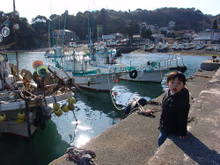 Last night we had a strong wind and heavy rain here in Shirahama. Yes, it seemed like typhoon.
But today it was very beautiful day, so I went to the small port to see the ships with my son, Yuuki.
It takes about 40 minutes by walking from Sakuraya.
There were many kinds of small and big ships.
Yuuki said,
"I want to get on that ship, dad!"
I understand him but there was nobody and we couldn't get on without permission. ……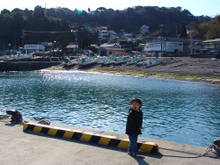 When we were walking along the port we found small fishes there.
"Look at that, Yuuki!"
"A lot of fishes there, dad!"
If we had a net we had could get those fishes. It was really regletable.