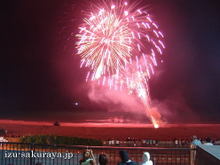 Have you ever seen "The Fireworks in Shirahama"?
It had been held on the second Saturday in every July until last year.
But the typhoon came to Shirahama directly last summer on second Saturday, so they had to change the date to August 26.
I don't know that's why, but the fireworks 2008 will take place on ……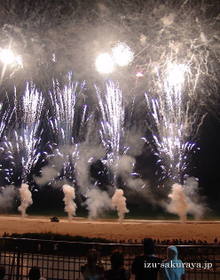 On July 19th, Saturday 2008 it will be held at Shirahama beach this summer.
Do you find the people near the beach in the 1st photo?
Yes, the fireworks are held in front of the people who are standing along the beach.
I think it is about 50 meters.
So everybody is surprised at these big fireworks here.
Would you like to feel that?
It will be held from 8:00 pm on July 19th, Saturday 2008.
Let's get the gorgeous and unforgettable fireworks this summer!
Pension Sakuraya: A small guesthouse in Shirahama, Shimoda, Japan