Minami Sakura (Cherry Blossoms) and Nanohana (Rape Blossoms) festival which started on February 5 was finished yesterday, March 10.
As my wife wanted to go to Shimoda for shopping my son and I went together and we went to Minami Izu town to see the flowers.
In Shimogamo there is a big field of rape blossoms and when we got to this field my son started to run into the rape blossoms. ……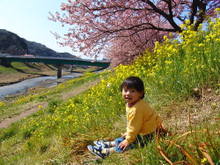 After that we moved to the main spot of Sakura Festival.
Sakura trees still had blossoms today because the blooming was slowly this year.
On the river side we had a break under the sunshine.
If we brought a luch box we could have a peaceful and happy time at lovely place here.
Woule you like to see these flowers?
Probably the rape blossoms will be blooming until the end of this month, March!
<Links>
Cherry Blossom Festival in Kawazu and Minami Izu
Pension Sakuraya: A Guest House in Shirahama, Shimoda