Have you ever seen this?
It's called "Tsukushi" in Japanese (Horsetail in English).
I took this photo in Minami-Izu town yesterday.
We Japanese feel a spring with this horsetail.
Yes, spring has come in Izu peninsula.
I show you today's Shirahama beach …….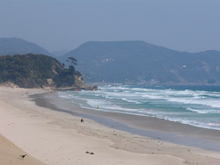 Today it was sunny but the air was not clear.
And we had a strong wind here in Shirahama, so many windserfers came to get good wind and wave.
I think they are local people because they always come to this beach with good timing.
By the way the color of this sea is not beautiful blue in these days, I guees the air is not clear.
That's why I couldn't take a good photo and post it in this weblog.
Shirahama Beach in Shimoda: Pension Sakuraya