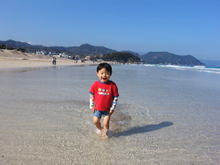 Today it was very warm too!
So I went to Shirahama Ohama Beach with my son Yuuki.
When we arrived at the beach we got of the shoes and started to run to the waters soon.
Actually the water is too cold, but my son was very excited there…..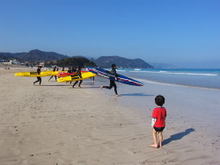 When we were playing on the beach some life savers were training.
They got into the water with the boad and came back many times.
In summer they, lifeguards watch the water and patroll the water's edge.
Yes, that's why we can swim in the ocean safety in summer.
Thank you very much!