Today it was a 2nd day of Black Ship Festival.
My son, my daughter and my wife went to Shimoda, and took some photos.
After the ceremony in Shimoda park the official parede started at 11:00 am.
Over 400 people walked in Shimoda downtown for this parade.
They are the sailor men of the US Navy…..
.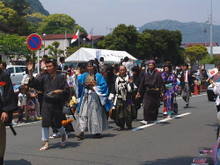 They are the citizens of Shimoda city, and they are putting on the tradditional clothes of Edo period.
During this festival we have many customers who came to Shimoda to see this festival.
By the way we had a coulple, and a husband was an officer of US Navy ship which came to Shimoda port.
And then they invited us to get on the US Navy ship, of course it was a first time for us.
We found and were surprised at the post office and ATM in the ship.
It was a great experience for us.
Pension Sakuraya: A small hotel in Shimoda