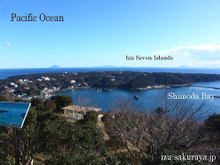 Today it was very beutiful day.
When I saw the ocean from our pension I could see Izu Oshima island clearly, so I desided to go to Mt. Nesugata-yama by Cable car with my wife and son.
It's only 3 minutes by calbe car to get to the top from the cable car station near Izukyu Shimoda station.
As I was thinking we could get very beutiful senery from the top of mountain like this picture……..