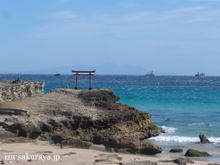 There is a Torii ( Red gate of shrine ) behind Shirahama shrine.
Today I went there to take photos.
But I could not open my eyes there because we had strong west wind and it brew the sand.
In addition we could find an another thing ……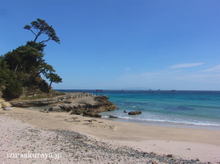 After summer we sometimes have strong north-east wind here in Shirahama every year and this wind brought the sand to the opposit side of this beach.
So the rocks appeared out of the sand and this place is full of rocks.
However we have sometimes west wind in winter and this wind bring the sand back to this place and we can see the beach with sand as usual.
The nature has a good system of cycle, I think.