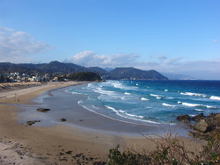 Today I could see a blue sea after several days.
It had been cloudy for last one week here in Shirahama.
This morning it was rainy but the weather had been changed after 2:00 PM.
I took this photo after coming back from shopping in Shimoda downtown with my son, but actually I took some more photos before I went to Shimoda……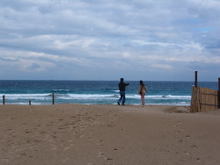 Then it was cloudy and we had strong and cold wind on the beach.
When I was taking photos a couple asked me to take photo for them.
After I took some photos one of them told me,
"The color of this sea is really beautiful, isn't it?"
"Yes, I think so, but it would be more beutiful under the sunshine actually." I answered.
They may came to Shimoda for the 1st time today but I hope they would come back with sun.