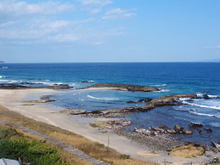 Today it was cloudy in the morning and sunny in the afternoon.
After my wife came back from Shimoda I went to the beach with my son Yuuki.
In Shirahama there are 2 beaches called "Ohama" and "Chuou".
We can get to Chuou beach from Ohama beach by walking along the beachside, and it takes about 20 or 25 minutes.
But we took a car today as we didn't have enough time…..