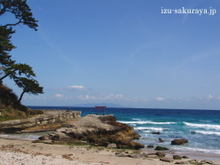 As I had to go for shopping I went to the beach after that.
I took this picture at the back of Shirahama shrine in Shirahama Ohama beach.
There is a red gate called "Torii" in Japanese on the rock and we can see Izu Oshima island over there.
Shirahama shrine is located on north side of Shirahama beach, I am showing the another picture taken at the middle of this beach. …..