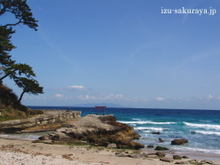 As I had to go for shopping I went to the beach after that.
I took this picture at the back of Shirahama shrine in Shirahama Ohama beach.
There is a red gate called "Torii" in Japanese on the rock and we can see Izu Oshima island over there.
Shirahama shrine is located on north side of Shirahama beach, I am showing the another picture taken at the middle of this beach. …..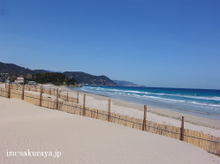 It was a beautiful day today.
When I was taking a picture here some people came to the beach and said,
"Oh, great!! What a gorgeous sea this is!"
They were very lucky, because it was rainy yesterday and will be rainy tomorrow again.
In this season the weather is changing day by day, but it is getting warmer little by little.
By the way Japan Meteorological Agency informed the forcast of Sakura blossom blooming dates in 2009 yesterday, and it says cherry blossom is expected to bloom on around March 25th in Shimoda!!
There are many places where we can see cherry blossoms in Izu peninsula.
Of course there are some points for them in Shimoda, but I recommend you a park on the top of Mt. Nesugata which we can get to by cable car next to Shimoda train station.
Links: Shimoda cable car (ropeway)