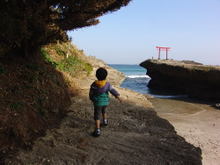 Today it was sunny and very warm here in Shirahama.
At around 3:00 PM I went to the beach with my son Yuuki before picking up my daughter who came back from the school.
My son and I went to the rock behind Shirahama shrine.
There is a red gate "Torii" of shrine on a big rock.
We were going to Shirahama Chuou beach walking on the rock……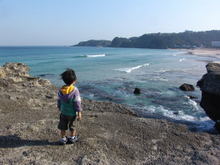 We got to the tip of rock and we sometimes had strong wind there.
We can see all of Shirahama Ohama Beach from this place, but can't see Izu seven islands because of not clear air today.
It was a low tide at that time and we could see the rocks under the water, which we can't see when we have a high tide.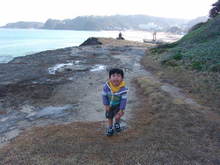 After that we started to walk but my son cried suddenly.
He was going to walk after me but fell down and had hurt his left knee.
"Help, daddy!" my son said.
"There is no plobrem. You can continue to walk even if you have hurt."
I said so, but he couldn't walk any more and sat down on the rock.
So we had to come back home and were not able to get to Shirahama Chuou Beach today.