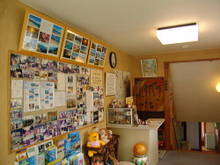 2 years ago it was a 20th anniversary for our Pension Sakuray, and then we started to present our guest postcard as a gift.
Our guests were pleased with these postcards and everyone praised these photos which I took in Shirahama.
So last year we conteniued to do it after we changed some of them.
And this year it became 22nd anniversary…..