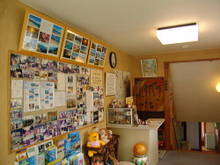 2 years ago it was a 20th anniversary for our Pension Sakuray, and then we started to present our guest postcard as a gift.
Our guests were pleased with these postcards and everyone praised these photos which I took in Shirahama.
So last year we conteniued to do it after we changed some of them.
And this year it became 22nd anniversary…..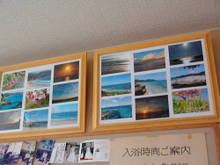 I was going to change some of them this year again, but it was really difficult for me because I am pleased with all of them.
Then my wife said,
"Why don't you add one more picture frame for samples?"
"That's a good idea!"
So I started to select the new photos from my collection, but it was very difficuot work for me.
Because I have more than thousands of photos which I took in last 10 years.
At last I selected new 11 photos and made 3 frames.
We will give you one of these postcards when you check-out for free.
But if you would like to get more you can buy a card 100 yen.