This morning it was cloudy but it became sunny later!
Yes, we were able to have a sunshine after 1 week.
When I was cleaning our guest rooms I was able to see a blue sea!
So, after I finished to clean up I went to the beach with my son Yuuki.
On the beach we had a little west wind but it was very warm today!!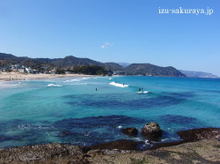 I took this picture on the right side of Shirahama beach.
There is a big rock there, but as we had a low tide it was easy for my son and me to get there.
We didn't have big waves today but there were some surfers in the water.
I hope we would be able to have sunny day next 1 week or more.
Izu Shimoda Shirahama Ohama Beach "Pension Sakuraya"