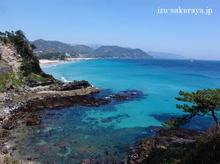 I took this picture at the parking lot which is called "Miharashi-Hiroba" in Shirahama.
Today it was very warm here in Shimoda.
And when I went to the sea it was low tide and the water was very clear, so I decided to do "Snorkeling" there.
I came back home and brought my wet suit, and then I went back to the sea….