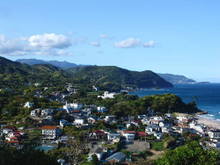 My family and I have been living in Shimoda for more than 15 years, but Shimoda and Shirahama make us very happy.
Because Izu peninsula has both the mountains and the beautiful sea and we can spend a happy time with them.
Especially, in this season we can see the fresh green leaves on the mountains. So I love this season.
By the way …..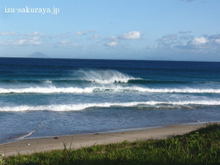 I went to a fish shop near Shirahama shrine and took the picture of the beach.
Today we had a very strong wind all today.
As it was west wind and we had a little big wave here in Shirahama it was a good condition for surfers.
The weather forcast says that it would be sunny and windy like today.