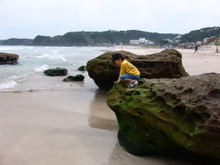 Today it was sunny in the morning after 3 days in Shimoda.
When I was cleaning the gurest room I could see the beautiful blue sea through the window.
I wanted to take a picture soon but waited for my son finished the pre-school.
After picking my son up at the pre-school we went to the beach in the afternoon, but it became cloudy and could not take a picture of the gorgeous sea at last.
When we were playing on the beach my friends came and showed us it.