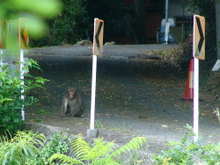 I sometimes find some kinds of animals around our Pension.
They are squirrel, racoon dog, wild boa and so on.
Today, when I was cleaning our guest room I found something walking on the road in front of our building.
Do you know that?
Yes, it's a monkey.
They sometimes come to our feild and eat vegetables and fruits because they can't get the foods in the mountain and may be hungry.
But there is no problem. Because they go into the forest immediatly when they find out us.
.
.