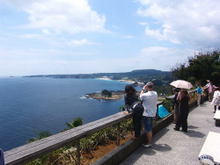 Today it was sunny too.
The air temperature was going up and up and very hot at last.
This morning I went to Shirahama post office and went a little futher to Ogasaki Wing.
Ogasaki Wing is located at the entrance of Shimoda city on Rout 135, and this is one of good view points in Izu peninsula.
From this points we can look over Shirahama Beach, Suzaki peninsula and Izu seven islands.
I show you the photo of Shirahama beach taken from this point. …….