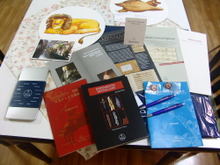 Today we got some presents from our guest who came from Germany and stayed at Sakuraya in last April.
She came to Japan for her private holiday and stayed at our Pension for 3 nights.
I didn't know who she was before checked-in, but I knew and was surprised at her job after talking with her.
She is working as a marketing and distribution at Bärenreiter, and she often comes to Asia for sales and marketing.
Actually, I am a member of chorus group in Shimoda, called "Shimoda Chor Freude", and we will have a 30th anniversary concert next April and now we are
just practicing Mozart "Requiem"…..