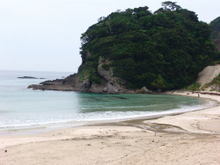 It was cloudy all day today.
After picking my son up at Shirahama pre-school we went to the beach to check it out.
There was nobody on the beach and very quiet.
As we didn't have wave the sea looked like almost lake.
Yes, it was a good condition for snorkeling, but I could not do it because we were very busy and didn't have enough time for it.