As you know we had a typhoon and earthquake here in Shizuoka Pref. this week.
However, there was no problem in Shimoda completely.
I went to the beach to take photos of Shirahama beach today.
There were a lot of people as usual on the beach.
I am showing the photo taken on the beach…..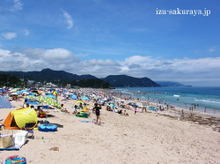 Look at this!
Yesterday we had a big waves due to typhoon here in Shirahama, but it was good condition for swimming today.
Yes, the summer and a lot of people came back again.
You don't need to worry about any problem.