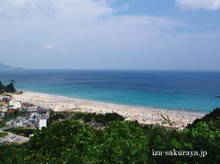 Last night the weather forecast said that it would be cloudy today, but it was sunny actually.
I went to the top of mountain behind our Pension to take photos.
I could see a lot of beach parasols on the beach.
The water was blue and gorgeous today.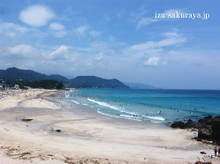 Look at this!!
I came down to the beach from the mountain to take this photo.
It's just 3 or 4 hours to get to this beach from Tokyo, but it is really amazing that we can get the clear water like this.
Why don't you come and visit to this Shirahama Beach this summer?