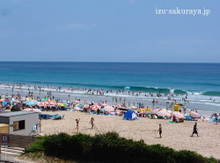 This morning we had a rain here in Shirahama, but the weather was changed and became a sunny day!
I went to the beach to swim with my children for the 2nd time this summer.
There still were a lot of people on the beach.
The sea was really blue and beautiful, but we had big waves today.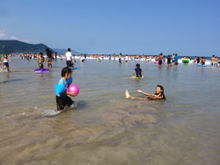 After we arrived at the beach my children got into the water soon.
The water temperature was about 26 degrees, so it was very warm to swim.
My son can't swim well, but he had air float on his arms.
So he was able to play in the water with his sister without worrying.