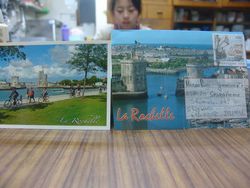 This afternoon my wife gave me a letter.
There was a name of place "La Rochelle" and I rememberd a guest from France.
He was travelling in Japan by bycycle and came to Sakuraya alone on May 2008.
He stayed at Sakuraya for 4 nights then.
He said in this letter, " I have a dream to be back in your Pension Sakuraya someday with my wife and daughter".
Yes, we are looking forward to meeting you again.