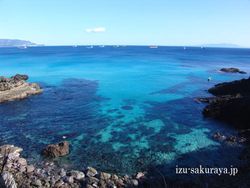 Have you ever seen this color of the sea in Japan?
Today it was very cold here in Shirahama, but I went to Shimoda downtown by bycycle.
On the way to Shimoda there is a free parking lot called "Miharashi Hiroba".
I took this photo near this parking.
The air was very cold, but the water in the sea was clear!
It takes about 3 or 4 hours by car from Tokyo, but you can get this beautiful scenery if you come to Shimoda.