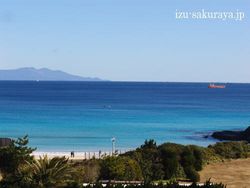 We had a very strong wind here in Shirahama yesterday, but it became sunny today.
So I went to the beach to take some photos.
I took this on the way to the beach.
The sea was very gorgeous and I could see Izu Oshima island over there.
Since I moved here I had seen this Shirahama beach a lot of times but I never get weary of looking at this blue sea.