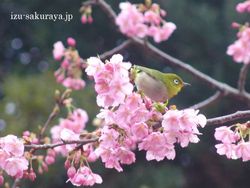 I walked this morning after 3 days.
There is a parking lot on the left side of Shirahama post office.
And I found out some birds on the cherry trees there.
Some of them are blooming fully and white eyes come to suck nectar of these blossoms.
I wanted to take photos of them but they didn't stop jumping from the blossom to the others.