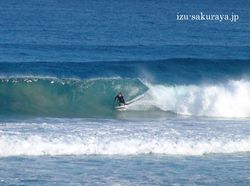 Shirahama beach in Shimoda is one of good points for surfing.
We sometimes very good wave here, especially in September due to typhoon.
But today we had a very beautiful wave like this.
It looks twice as high as surfer in the water.
I don't understand why they are not afraid of big waves.
If I don't have a surf board I can't get into the water.