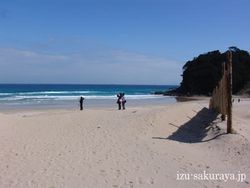 As always I walked around Shirahama area when my daughter went to the school this morning.
But I forgot my camera and couldn't take photos then.
So I went to Shirahama beach again around noon.
When I got into the beach there were some people seeing the ocean.
The water of the sea was blue and very clear under the sunshine today……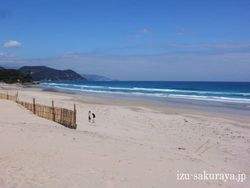 On the other side of the beach there was a couple walking there.
I tought they were in the water without shoes and had just come back from the water.
We had  wind and the temperature was a little low, but it was very good condition for relaxing and walking on the beach.
I heard that Sakura trees started to bloom in Kyushu region.
So we will be able to see it soon in Shimoda.