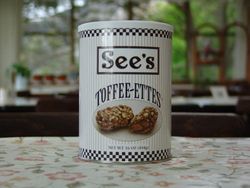 We had an american family who stayed at Sakuraya on March 30th.
They stayed for only 1 night but they were very glad to stay and gave us this present.
This is called "Toffee-Ettes Cake" made by See's in California.
Here is a story from their web site below.
"Irresistible bite-size pieces of rich Danish butter toffee with whole
almonds are smothered in See's creamy milk chocolate, then covered with
bits of toasted almonds. Keep a canister on hand for unexpected guests
or take one to the office."
Of course it was a first time for us to eat it, but it was very delicious and we enjoyed this flavor!
I show you next one….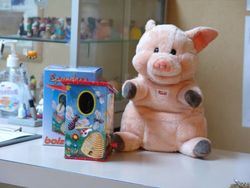 We had another family who gave us this present.
They came from Germany and stayed for 2 nights.
When they checked-out they gave us these things.
"These are presents for your children." they said.
One of them is a saving bank. There is a hole on it, and the bird come out to get coin from this box and put it into it.
This is very interesting!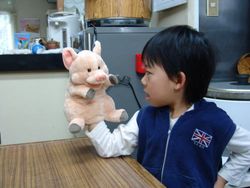 The another one is a pink stuffed pig.
But this is a glove puppet actually.
When my son Yuuki found out it he became happy and was pleased with it and start to play with it.
Of course, my son is a boy, but he likes stuffed animals and sometimes play with them.
However I have to tell you one thing for him.
He plays with guns, mini cars, trains and so on too.
Thank you for these presents!!