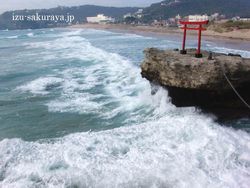 The weather forecast said,
"It was 26 degrees in Tokyo, but was more than 30 degrees in Okinawa today."
In Shimoda it was very warm, but was not hot today actually.
We had very big waves here in Shirahama, but it was not good condition for surfing.
The waves were hitting the rock which has a Red gate "Torii" on top.