"Dad, I want to play outside!"
My son said so.
Since my daughter Hikari has a cold and she was watching TV in the kid's room, my son Yuuki couldn't watch his favorite TV program.
After I finished my work I went to the parking lot near the beach with my son.
My son loves to play with a toy car.
After that we went to the beach…..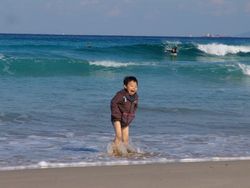 Today we had a little wind, but It was sunny and very warm in Shimoda.
When we arrived at the beach my son said,
"Can I put off my shoes?"
He went to the sea to get into the water.
I thought the water was still cold, but he didn't matter with it.
It had been cloudy or rainy, and very cold in these days.
But the water was really blue and it was very beautiful today.
My son was satisfied with playing in the water.