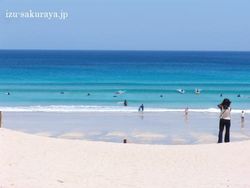 Do you know it takes only 2 hours and 50 minutes to get to this beach from Tokyo?
Before getting into Golden Week it had been cold, cloudy, rainy and windy here in Shimoda.
But at the beginning of Golden Week the weather was changed and we got this beautiful sea at all.
This color is real blue which I saw on the beach today.
Have you ever been to Shirahama in Shimoda?
You should try to come and get a great nature in Shimoda!!