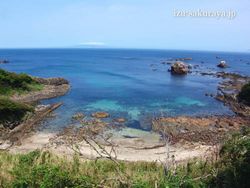 There are many beaches in Shimoda, and this is one of them.
We can find out this beach on the way to Shimoda downtown, and also I think this beach is one of good points for snorkeling in Shimoda.
When we don't have big waves it is easy to get into the sea from the water's edge.
Today we could see the island called "Izu-Oshima" over the ocean.
It had a cloud over the top of island, and this island looked like floating on the sea.