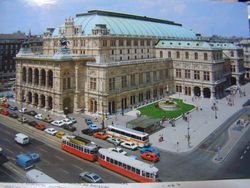 Several days ago we got a postcard from Wien in Austria.
They stayed at Sakuraya at the beginning of last April.
They came to Japan for a wedding ceremony of their friends, which was held in Kobe.
How did you feel a Japanese wedding?
I think it was great experience for you.
By the way I have been to Wien when I was a student of university….
In those days I was on 2nd grade of university and traveled to Europe for about 2 months.
I went to 9 countries in Europe and Morocco.
Then I went and stayed in Wien for 2 nights after Germany and went to Opera house to watch an opera and a classical ballet.
I was so excited with them and decided to get a job for stages, but I started dancing when I was on 4th grade actually and became a dancer at all.
So Wien gave me a big change in my life.
I really want to go to Wien and other countries in the future with my wife again.
Thank you for sending postcard.
This card made me very happy.