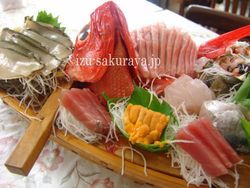 Have you ever eaten raw fish "Sashimi" in you country?
In Shimoda we can get very fresh fishes easily.
This is "Funamori" which is a combination of Sashimi.
The red one at the middle of this is "Kinmedai", red snapper.
Shimoda is very famous for this Kinmedai.
It's very delicious.