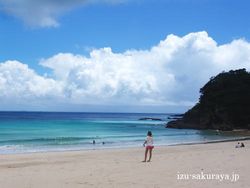 Have you ever been to the southern islands in Japan?
If you have never been there you don't need to go, because you can get it here in Shimoda.
In these days it has been cloudy and sunny, but sometimes we had a shower.
But I could take the beautiful photos on the beach today.
Now we are in summer.
Come and play, and spend great time here in Shirahama.