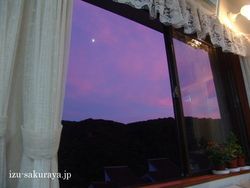 "Can you see this everyday in this season?"
When our customers finished the dinner asked me.
"Yes, we sometimes can see it, but not everyday." 
After I said so I went to my room to take my camera, but the color was changed when I came back to the dining room.
In Shimoda we sometimes can see the beautiful red sunset, but its color is different in this season.
Anyway, I show you the photo of Shirahama beach, which I took this afternoon…..