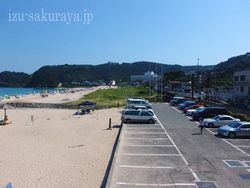 How do you come to Shirahama in Shimoda this summer?
Every summer many parking lots are opened for the visitors, but this parking lot is closest one near Shirahama beach.
This parking lot is operated by Izu Shirahama Tourist Association.
The operation time is from 8:00 am to 5:00 pm, and parking fee is 1,000 yen ~ 2,000 yen depending on the date and the parking time.
If you are a family with small children or if you have a lot of bags this parking lot is very useful, I think.
In addition, there is a convenience store "Family Mart" nearby. Oh, it's great!!
I took this photo today. It was really hot again and the sea was really blue as usual.